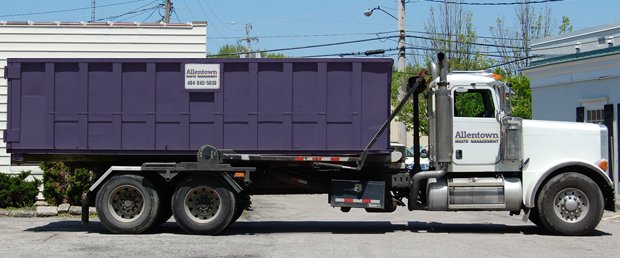 The Best Dumpster Company This Side of the Alleghany
Our company has been working with Allentown's homeowners, construction companies, independent contractors, and many, many more customers for over 10 years. Throughout that time we have worked to meet the needs of our customers and communities; whether we're providing a dumpster for a local non-profit river cleanup or removing cinder-blocks from an old abandoned church, we've made sure to be there for every single one of our customers.
A lot of what we do here at Allentown Waste Management boils down to customer service; ensuring every customer's needs are met and that they get their dumpster in a timely fashion. We've perfected our delivery model to the point that ordering a dumpster takes just mere minutes. When you call to order, our customer service team hops on the phone in an instant. Each of our service representatives has first-hand knowledge of the business, affording them the expertise needed to help you determine what size, and type, of roll off dumpster will be best suited for your project.
Give us a call at 484-840-5939 and we'll get your waste sorted in no time at all. We're available every day of the week between 7am-7pm Mondays, 8am-7pm Tuesday through Friday.
A Lean Green Dumpster Company
Our line of work has a direct impact on the local environment. That's why we work under the highest environmental standards of the industry, ensuring that every piece of debris we collect is handled properly, from the customer to the landfill, recycling center, or other facility. Every possible destination for your waste is properly managed and operated according to EPA standards for safety and environmental protection.
Every single dumpster we send out is covered once we come pick it up. This ensures that nothing falls out of the bin during transportation to the transfer station or landfill. This is done for both the safety of motorists and to prevent environmental pollution through litter, which has long been a concern for us and our customers. Our pickup procedure further ensures this doesn't happen by instructing customers to fill their dumpsters no higher than the top of the bin. This keeps everything inside the bin and not jostling around in the wind where it can get snagged on other cars or utility poles.
As for recycling, we utilize recovery facilities for a portion of the debris we collect. This is primarily construction debris, especially concrete, which is frequently reused or recycled to make more concrete or used as fill material for new construction projects. As for consumer goods, we recycle as much plastic and aluminum as local facilities allows us. There are times where this is not practical, such as when the recyclables are mixed in with other debris, making their separation and sorting practically impossible. Fortunately, we can still recycle a good portion of these materials, so if you're concerned about where your waste is going, don't be. We've got it all taken care of.